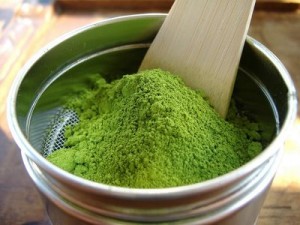 It is interesting to note that Japanese Zen Buddhists have used matcha tea benefits for hundreds of years, which includes helping them to meditate. In fact, the tea ceremony has been a sacred Japanese ritual for more than 800 years. The four treasured principles of the Japanese tea ceremony are:
* Wa (harmony)
* kei (respect)
* sei (purity)
* jaku (tranquility).
The fact that Living Qi matcha tea doesn't cause the jittery effects of caffeine but makes the mind alert and the body at ease makes it the perfect partner for any work related activity or creative endeavor.
Research on Theanine, a major ingredient in matcha, has shown that it puts the brain in alpha state.
Other Matcha Tea Benefits
Our customers report that Living Qi organic matcha is the perfect coffee substitute. Whether at work or working out, making music or making art, after drinking this unique tea you will feel the profound energizing and calming effects. And you will understand why our tagline is:
Create your mood™
To find out how we price the finest matcha in the world click here.