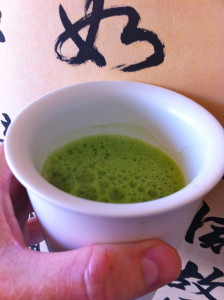 Matcha Maca Energy Shot
This is a simple way to make an all-natural Matcha-Maca energy drink at home. Matcha is powdered green tea and Maca is a root indigenous to South America and used as an herb to stimulate energy, endurance and libido. The flavors of Matcha and Maca combine very well to make a delicious and nutritious coffee substitute and healthy energy drink.
1. Add one gram Living Qi's organic Radiant Matcha into your favorite bowl
2. Add one gram organic Maca powder to the bowl
3. Add one cup of hot water (176 degrees or so). Adjust water to taste
4. Whisk with a bamboo whisk until all clumps have dissolved
5. If you want it sweeter: Add one teaspoon organic honey, brown sugar or stevia to taste
To see more delicious Living Qi Matcha recipes click here.